Walking in East Sussex



East Sussex, one of the most historic counties in England and one that provides a fascinating choice of landscapes in which to walk.  
Explore a countryside that is filled with rich farmland, orchards and hop farms with their conical oast-houses. As you walk through this delight you'll come across pretty little villages hidden between the woods and the fields, sleepy little river valleys full of wildlife and a coastline full of character and history.
Here you can walk in the footsteps of prehistoric man as they followed the Ridgeway over the rolling, grassy slopes of the South Downs, stumble over the remains left by the Roman invader as they remade this Celtic country in their own image and visit the site where the last true English king met his death at the hands of the Norman conqueror. This is a county that has a lot to offer the walker so come and give your senses the treat that they deserve. 
Choose From: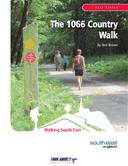 The 1066 Country Walk

Walks in 1066 Country

Buy Guidebooks Online or Download Guidebooks Instantly
You can buy our Running Guidebooks, Walking Guidebooks and Mountain Biking Guidebooks online, as well as some being available for instant download.