The 1066 Country Walk
ISBN 978-1-905444-45-8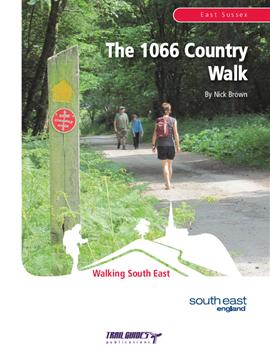 Price: £10.99 each.
Postage:
£1.40 per book to the UK.
£3.42 per book to Ireland and Europe.
£4.62 per book to the rest of the World.
The 1066 Country Walk traces the footsteps of William the Conqueror from his landing at Pevensey, via Battle where his victory over King Harold changed the course of English history, to finish at Rye. It makes a superb weekend walking break, with a suggested overnight stop at the halfway point at Battle.

For the first time the Walk is broken down into 6 separate stages, showing how this unique area represents a true microcosm of history down the ages. It has been occupied by the Romans, Anglo-Saxons and Normans; survived the Black Death in 1348, the Great Plague in 1665, and the threat of Napoleonic invasion in the early 19th century; and finally witnessed the Battle of Britain played out in the skies overhead during 1940.


As well as the 6 stage walks, the author uses his considerable local knowledge to offer a further 6 circular walks - all taking in part of the 1066 route - thus allowing walkers to explore even more of this delightful countryside!
Highlights include Pevensey Castle; the Pevensey Levels; Herstmonceux Castle; Tent Hill; Battle Abbey; the Brede Valley; Winchelsea and Rye.
Contents
The Walks
The 1066 Country Walk
Stage 1. Pevensey Castle to Boreham Street    7.42 miles
Stage 2. Boreham Street to Ashburnham    2.68 miles
Stage 3. Ashburnham to Battle Abbey    6.60 miles
Stage 4. Battle Abbey to Westfield    4.90 miles
Stage 5. Westfield to Icklesham    4.90 miles
Stage 6. Icklesham to Rye    5.62 miles
Circular Walks on the 1066 route
Walk 1. Herstmonceux    5.80 miles
Walk 2. Battle Abbey    5.70 miles
Walk 3. Westfield    4.90 miles
Walk 4. Broad Street, Icklesham    4.50 miles
Walk 5. Icklesham    5.00 miles
Walk 6. Rye    4.25 miles
The 1066 Country Walk Reviews
Book review: The 1066 Country Walk
If you fancy a fairly gentle weekend walk following in the footsteps of William the Conqueror, Nick Brown has written a new guide to the 1066 Country Walk. He has split the route into six stages, some of which are very short so you can certainly do more than one in a day if you are walking the route end to end. Alternatively Nick has devised a series of circular walks taking in some of the best parts of the 1066 route, such as Battle Abbey and the BredeValley near Icklesham.
While it's not a high production value publication Nick Brown's guide is thorough, describing the route in more than adequate detail and providing plenty of useful background information, plus some 'potted history'. The maps are hand drawn so you will almost certainly want a proper Ordnance Survey map; OS Explorer 124 does the job. Cover price is £10.99, available from Trail Guides Publications

Walking World Website. February 2012