Walks around Reeth & Upper Swaledale
ISBN 978-1-905444-52-6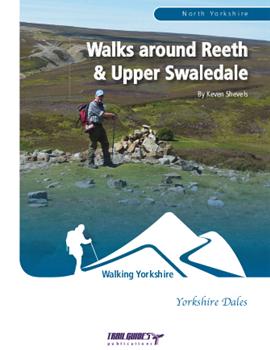 Price: £9.99 each.
Postage:
£1.40 per book to the UK.
£3.42 per book to Ireland and Europe.
£4.62 per book to the rest of the World.
Also Available To Download

Download Price: £4.99
By Keven Shevels

A 112 page full colour A5 booklet describing nine walks and the history and landscape surrounding those walks, each walk starting and finishing within the locality of the village of Reeth in Swaledale.

Considered to be the capital of Upper Swaledale, the village of Reeth stands high above the confluence of the River Swale and the Arkle Beck and over the centuries has kept watch over the changing face of the dale.

Here the Mesolithic hunter/gatherer came on his foraging expeditions, the Bronze Age tribesmen created cattle ranches and began the early steps into agriculture and clashes arose between the native Celts and the invading Anglians who were to form the embryonic England. The Vikings who recognised the similarities between their home and this little rugged dale came and settled, creating as they did so a character that can still be recognised today. During the Medieval period large religious houses became established, evidence of which still exists on the ground and in place names. Then in the 17th and 18th centuries the industrialisation of the dale took place with hundreds employed in the mining and associated industries.
Join the writer in a series of walks that explores both the countryside and the history that shaped it, in this corner of what is thought of as the most beautiful of all the Yorkshire Dales.
Like walking in Swaledale, I can't say that I blame you after all it is a beautiful valley. In which case have you tried one of our other guides to the Dale. Or even better, buy all three books together as the Swaledale Bundle and save 20% off the individual list price.




Contents
1. Introduction.
2. Access and the Right to Roam.
3. The Walks.
4. Weather.
5. Maps.
6. Accommodation, Facilities & Attractions.
7. Tourist Information Centres & Websites.
8. Lead Mining Glossary.
Walk 1. Hurst.
Walk 2. The Southern Dykes.
Special Feature. The Grinton - Fremington Dykes.


Walk 3. Marrick Abbey & Fremington Edge.
Walk 4. Maiden Castle.
Special Feature. Maiden Castle.


Walk 5. The Enclosures of Calver.
Special Feature. Early Life on Calver Hill.


Walk 6. Whitaside Moor & Green Hills.
Walk 7. Surrender Smelt Mill & the Barney Beck.
Walk 8, Grinton How Smelt Mill & the Grovebeck Mines.
Special Feature. Grinton How Smelt Mill.


Walk 9. Harkerside & Apedale.
The Walks
WALK 1: HURST

This route retraces the miner's footsteps along the old track between Reeth and Hurst crossing as it goes the stark remnants of the mining grounds. From Hurst you then follow another old miner's track over to Arkengarthdale, again, from where many miners made the daily slog to work.
DISTANCE: 7.5 miles (12 km).   ASCENT: 1,332 feet (406 metres).
START: Reeth. (GR SE 038 992).
TERRAIN: Mainly moorland tracks and field paths.
FGS Grading: F6 [D1, N1, T1, R1, H2]
WALK 2: THE SOUTHERN DYKES

A shorter walk this but a nice winter one when a light dusting of snow can really highlight the land forms and show off some of the landscape archaeology that exists in this part of the dale. The two main features of this walk are a couple of the Dark Age defensive dykes erected across the width of the valley to protect the native Celtic kingdom of the Swale from the encroaching Anglian invaders.
DISTANCE: 3.6 miles (5.7 km).   ASCENT: 397 feet (121 metres).
START: Reeth. (GR SE 038 992).
TERRAIN: Mainly field path with a short stretch across moorland.
FGS Grading: F4 [D0, N1, T1, R1, H1]
WALK 3: MARRICK ABBEY &FREMINGTON EDGE

Swaledale has a long history of human habitation going back over thousands of years and on this walk you'll encounter fragments of this rich tapestry and see how, even now, the landscape is still shaped by humans who are long gone.
DISTANCE: 7.3 miles (11.7 km).   ASCENT: 935 feet (285 metres).
START: Reeth. (GR SE 038 992).
TERRAIN: Mainly field paths and moorland tracks although there are a couple of road sections on very quiet country lanes.
FGS Grading: F5 [D1, N1, T0, R1, H2]
WALK 4: MAIDEN CASTLE

A walk exploring the Iron Age hill fort of Maiden Castle.
DISTANCE: 4.8 miles (7.6 km).   ASCENT: 656 feet (200 metres).
START: Reeth. (GR SE 038 992).
TERRAIN: Mainly field and moorland paths.
FGS Grading: F5 [D0, N1, T1, R1, H2]
WALK 5: THE ENCLOSURES OF CALVER

Calver Hill rises directly behind Reeth and for many walkers it's summit is an obvious objective for a walk. However, how many walkers know the true history of this hill and the landscape that surrounds it.
DISTANCE: 7.6 miles (12.1 km).   ASCENT: 1,240 feet (378 metres).
START: Reeth. (GR SE 038 992).
TERRAIN: Because on this walk you are following a trail between prehistoric monuments which, in the main, aren't conveniently located next to footpaths then you will be doing a fair amount of walking off-path.
FGS Grading: F7 [D1, N1, T2, R1, H2]
WALK 6: WHITASIDE MOOR & GREEN HILLS

A walk that follows the course of the River Swale upstream, passing as it does so one of the small fortified settlements from the Iron Age that lie on glacial moraines on the valley floor. The route then loops back over Green Hill, passing through seversl of the numerous mining grounds that line the southern side of the valley, before descending back down to the river to return to Reeth.
DISTANCE: 9.7 miles (15.5 km).   ASCENT: 1,093 feet (3333 metres).
START: Reeth. (GR SE 038 992).
TERRAIN: This route encompasses riverside and field paths, a walled lane and well-surfaced moorland tracks.
FGS Grading: F4 [D1, N1, T0, R1, H1]
Walks around Reeth & Upper Swaledale Reviews
Reeth is considered a paradise by most walkers. The landscape is littered with heritage, covering thousands of years from Iron Age hill forts to when the area was occupied by lead miners. The handy guide contains nine walks ranging from 3.6 miles to 9.9 miles. Colour photography and hand drawn maps.
The Yorkshire Dalesman. October 2012


Walks around Reeth and Upper Swaledale by Keven Shevels
Trailguides Publications
This book is published by a North East company by the name of Trailguides. The aim of the company is to produce guides that are user friendly, informative and in an easily readable format. On the evidence of this book, they have hit the nail firmly on the head.
First of all, for anyone looking for a guide containing OS mapping, look elsewhere; this book has route diagrams based on old OS maps. It has however, been updated by numerous field trips and site visits by the author. The lack of mapping is not really an issue to my eyes, as the diagrams are clear, well drawn, and contain as much detail as is necessary. My view on this is that it encourages a little research on the reader's part.
The introduction contains useful information, with sections devoted to access rights, weather, maps and accommodation within the area. Each walk is then introduced with some background information, such as local history. This is followed by a rough guide to the route, including time, distance, terrain and grid references to notable features on each leg.
The walks are then described in detail, with great clarity, and have clearly been well researched by the author, who guides the reader step by step, from start to finish. In fact, the routes are so well described, that I found myself building up an accurate picture of exactly what to expect.
Numerous photographs are also included, not only of the landscape variety, but also of interesting features you will encounter on the walk.
All in all, I found this to be a great little guide to a wonderful area, and a very useful addition to the bookshelf. I look forward to reading many more of Trailguides publications.
Paul Mitchinson Guided Walk Leader www.paulmitchinson.co.uk Published in TGO magazine