Walks around Gunnerside
ISBN 978-1-905444-43-4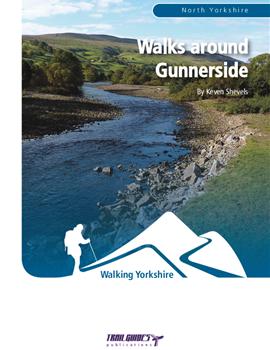 Price: £9.50 each.
Postage:
£1.40 per book to the UK.
£3.42 per book to Ireland and Europe.
£4.62 per book to the rest of the World.
Also Available To Download

Download Price: £4.99


By Keven Shevels.


A 96 page full colour A5 booklet decribing eight walks and the history and landscape surrounding those walks, each walk starting and finishing at the village of Gunnerside in Swaledale.



The small village of Gunnerside lies in the heart of Swaledale, which is regarded by many as the most stunning of all the Yorkshire Dales.

Originally settled by the Vikings in the dark years following the end of the Roman occupation, Gunnerside has seen many changes over the millennia but nowadays it is perhaps best known for being one of the traditional, stone built little villages that inhabit these rugged dales. However, step away from the well-worn tourist trail to discover the country surrounding it and you will find a rich and varied heritage lying hidden amongst the fields and moors of this landscape.

In a series of eight walks starting from the village, the author explores the countryside surrounding it and the legacy that a hard and stern history has left behind.



Like walking in Swaledale, I can't say that I blame you after all it is a beautiful valley. In which case have you tried one of our other guides to the Dale. Or even better, buy all three books together as the Swaledale Bundle and save 20% off the individual list price.





Contents
Introduction.
1. Introduction.
2. Access and the right to roam.
3. The walks.
4. Weather.
5. Maps.
6. Towns, villages and accommodation.
7. Tourist information centres and websites.
8. Lead mining glossary.
Walk 1. Dubbing Garth Lane & Gunnerside Bottoms.
Walk 2. Old Gang Circular.
Special feature. Old Gang Mines.
Walk 3. Smarber & Rowleth Wood.
Special feature. Wood pasture.
Walk 4. Swinner Gill.
Special feature. Swinner Gill Kirk.
Walk 5. Brandy Bottle Incline & Friarfold Rake.
Walk 6. Standard & Brownsey Moor.
Special feature. Shallow shafts.
Walk 7. Muker Circular.
Walk 8. Summer Lodge & the watershed.
Special feature. Summer Lodge Lead Mine.
The Walks
WALK 1: DUBBING GARTH LANE & GUNNERSIDE BOTTOMS

A shorter distance walk on both sides of the River Swale following a riverside lane on the way out to Isles Bridge and then returning via paths through the fields and along the riverbank back to Gunnerside. For virtually all of this walk the sight and sound of the river is your companion.
DISTANCE: 4.5 miles (7.2 km).   ASCENT: 246 feet (75 metres).
START: Gunnerside. (GR SD 951 982).
TERRAIN: Unsurfaced riverside lane and field and riverside paths.
FGS Grading: T1 [D0, N0, T0, R1, H0]
WALK 2: OLD GANG CIRCULAR

The area to the north of Gunnerside was one of the most heavily mined in the whole of Swaledale and was also one of the most productive. Most of the workings and their associated processes in this area belonged to the Old Gang Mines which was possibly the largest and most well-known of the mining activities within the dale. This longer walk takes the opportunity to explore a significant proportion of their operations including a smelt mill and dressing floors before visiting a series of dams which provided power and water to the mines within Gunnerside Gill.
DISTANCE: 11.1 miles (17.8 km).   ASCENT: 1,670 feet (509 metres).
START: Gunnerside. (GR SD 951 982).
TERRAIN: The majority of this route is on easily followed track even though it does cross high open moor. A small stretch of faint, boggy moorland path is used to access the Blakethwaite Dams and from here a well-established path is followed down Gunnerside Gill back to the village.
FGS Grading: F6 [D1, N1, T0, R2, H2]
WALK 3: SMARBER & ROWLETH WOOD

There are not too many opportunities to walk through woodland in Upper Swaledale but this walk gives the opportunity to pass through Rowleth Wood which is being cared for and restored by the Low Row Pasture Committee.
DISTANCE: 3.8 miles (6.1 km).   ASCENT: 420 feet (128 metres).
START: Gunnerside. (GR SD 951 982).
TERRAIN: Mainly field paths and tracks with a section on woodland path through Rowleth Woods.
FGS Grading: T3 [D0, N1, T0, R1, H1]
WALK 4: SWINNER GILL

A walk that explores the high moors to the north west of Gunnerside and along the way comes across an old lead mine and smelt mill hidden away up a side-valley. The walk also gives the opportunity to go to "church" in an outdoor amphitheatre that helped see the birth of religious non-conformance within Swaledale.
DISTANCE: 9.2 miles (14.7 km).   ASCENT: 1,542 feet (470 metres).
START: Gunnerside. (GR SD 951 982).
TERRAIN: A varied walk that, in the main, uses broad moorland and field tracks.
FGS Grading: F6 [D1, N1, T0, R2, H2]
WALK 5: BRANDY BOTTLE INCLINE & FRIARFOLD RAKE

The principle lead mining area in Swaledale lay to the north of the river and basically ran in a straight line from Keld in Swaledale to Langthwaite in Arkengarthdale. This was the Friarfold Vein and was one of the most productive in the North Pennines.
DISTANCE: 7.9 miles (12.6 km).   ASCENT: 1,585 feet (483 metres).
START: Gunnerside. (GR SD 951 982).
TERRAIN: A mixture of faint and at times non-existant moorland path and well-defined track.
FGS Grading: F7 [D1, N1, T1, R2, H2]
WALK 6: STANDARD & BROWNSEY MOOR

This is a medium-length walk that takes you up over one of the less-walked moors above Gunnerside despite having a network of well-made tracks across it. 
DISTANCE: 7.4 miles (11.8 km).   ASCENT: 1,489 feet (454 metres).
START: Gunnerside. (GR SD 951 982).
TERRAIN: This walk is mainly on moorland tracks the majority of which are well-defined and relatively easy to navigate.
FGS Grading: F7 [D1, N1, T1, R2, H2]
WALK 7: MUKER CIRCULAR

A more low-level walk for those days when you don't particularly feel like going over the high moors surrounding Gunnerside or when bad weather prevents you. This route follows field aths that shadow the River Swale up to the village of Muker where you can have the opportunity of partaking of lunch either in the Farmer's Arms or the Village Tea Rooms before returning through the fields that line the south side of the dale. 
DISTANCE: 6.6 miles (10.6 km).   ASCENT: 728 feet (222 metres).
START: Gunnerside. (GR SD 951 982).
TERRAIN: Mainly field paths with a couple of short sections of road walking on quiet country lanes.
FGS Grading: T4 [D1, N1, T0, R1, H1]
WALK 8: SUMMER LODGE AND THE WATERSHED

A complete mix of riverside, farm pasture, quiet country lanes, moorland track and path and just to complete it, hard walking over featureless moor on the watershed of Swaledale and Wensleydale, a stretch which includes both bogs and peat hags. Sometimes you just can't beat a little bit of wild walking. 
DISTANCE: 9.5 miles (15.2 km).   ASCENT: 1,286 feet (392 metres).
START: Gunnerside. (GR SD 951 982).
TERRAIN: Virtually every type of walking terrain possible.
FGS Grading: F8 [D1, N2, T1, R2, H2]